NKOL
"Northern Kentucky On-Line"
Our Mission
NKOL provides outsourced computer IT support to businesses.  This includes but is not limited to building and repairing computers and servers, web design and hosting, and network management.  We strive to bring the best options and solutions to our customers by keeping current with new technology ourselves.  We strive to bring the most cost effective solutions to our customers so that they are able to get their work done as efficiently as possible without overspending on IT.  All of our employees have very high values and this shows in our work.  NKOL has a long history of honesty and integrity and that keeps our company strong even when times are tough.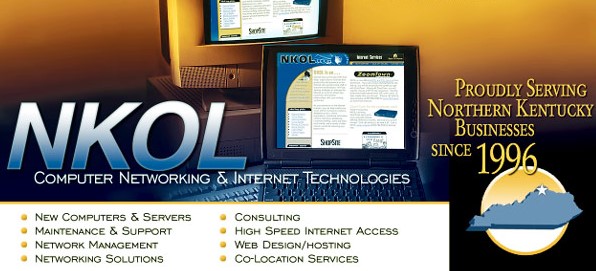 Our Story so Far
NKOL was started in 1996 as a resource for all home computer needs. Over the course of the next three years, it evolved into a networking and business computer company, serving companies across the greater Cincinnati area. In 2001, Ben Hanks was hired to do service calls and maintain the client relationships. In 2006 Ben Hanks purchased NKOL. As of January 2019 David Gautraud(with NKOL since 2003) has become a full partner with Ben Hanks.
Today NKOL continues to be a leader in the computer industry by consistently staying ahead of the technology curve. Our technicians offer prompt and thorough service. We work with customers ranging from law firms and banks to police departments and churches, with hundreds of other customers as well. Please contact us to see what NKOL can do for your business.


David Gautraud
President & COO